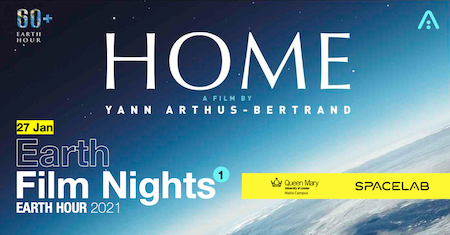 Earth Film Nights is a series of three movie documentaries we are screening in Gozo in the run up to Earth Hour 2021.
We kick-off with the stunningly visual "Home" directed by Yann Arthus-Bertrand. See Earth like you've never seen it before with extensive aerial footage of our planet, and mankind's influence on it.
Narrated by Glenn Close, Home takes us on a visual, emotional and cerebral voyage through our Earth's own journey from birth to this pivotal time where we know we must act decisively to safeguard 
#ouronlyhome
.
///
Earth Film Nights are free-to-attend but booking is required and spaces are limited. Please reserve your place here: 
http://eepurl.com/gil6E5
Earth Film Nights are brought to you by Spacelab in collaboration with Queen Mary University of London, Malta Campus.
///
Date: 27 January 2021
Time: 6pm
Venue: Queen Mary University of London, Malta Campus in Victoria, Gozo