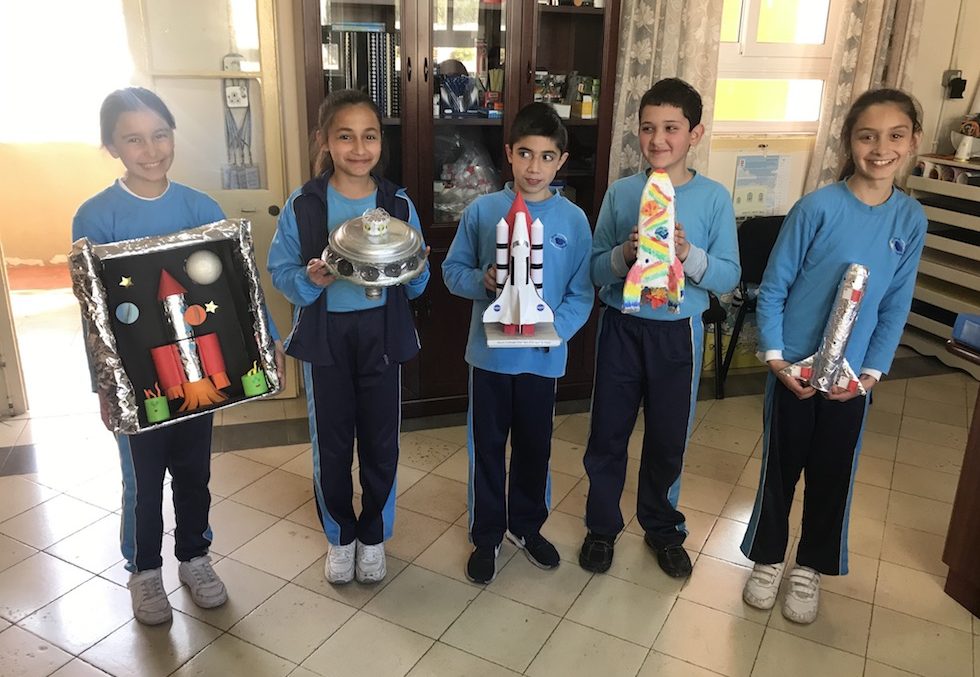 Crafty Kercem Kids engineer amazing Spacecraft by Upcycling Waste
Young children attending Kercem Primary School have stumped the organisers of the first Build-a-Spaceship Contest held on the island of Gozo with their creative prowess. Following an introduction to the contest by their class teacher, the 5 ten-year olds devised and built their spaceships at home in their own time. And with true Gozitan enterprise that has driven many islanders to excel beyond their shores, have created five truly amazing spaceship models that fascinated children and adults at the Spacelab Spaceship Exhibition held over the weekend.
Buzz Aldrin and Neil Armstrong  would be forgiven for mistaking My Nasa Spaceship built by Theo Grech using cardboard for the real thing. We very nearly did ourselves! The attention to detail of the replica of NASA's Space Shuttle is incredible. The real Space Shuttle is now grounded but My Nasa Spaceship's journey is just beginning. Well done Theo. Reach for the Stars.
Imagining an encounter with an as-yet unidentified alien species, Mireille Cini created the amazing Zeto, winner of the Upcycled Category. Mireille explains, "I built my spaceship with recycled materials including plastic bottles, paper, pot plates and duct tape. On the top I printed 4 aliens. Then I decorated my spaceship using silver varnish and coloured glue." Welcome to Earth Zetonians.
They say men are from mars and now we know their proper nomenclature. For Elani Grech it came natural to name her shiny Rocket with a Maltese name of her own design: Marsani or the Rocket from Mars. How cool is that? Marsani comes complete with Maltese Flags so anyone encountering the rocket in the vastness of space is sure to learn of a tiny archipelago at the centre of the Middle Sea and the little island off the mainland that is home to such unbridled creativity.
Joining Marsani on its voyage through space is "Malta's first Mission to Pluto". Created by Jacob Grech, the colourful spacecraft built with papier-mâché is clear in its trajectory to intercept the dwarf planet Pluto. Know where you want to go and go for it. With the callsign M-A-L-T-A and a fiery, renewable orange jet you will travel far. Thank you Jacob for creating such a wonderful rocket.
The interpretation of the brief was taken to a new dimension with Space Magic, created by Miriana Falzon. Proving that lateral thinking can be interstellar Miriana not only created a metallic rocket but a full space setting including planets, stars and a planetary surface giving her exhibit the feeling of a full story being told in space. Space Magic took home the Special Award for Creativity and rounded out a highly successful Spacelab Mission for the children of Kercem in Gozo, Malta. 
Monica Tabone and Silvio Grima, head and deputy at Kercem School were most impressed by the the independent way with which the kids took on the challenge proving that all the creativity needs, is a SPARK. 
Jet over to www.instagram.com/gozospacelab for more photos and subscribe to the Spacelab newsletter for updates on our next event.